BELL ROOF COMPANY has been serving San Bernardino and the INLAND EMPIRE since 1928!
We offer a variety of roofing services for residential, commercial and public works projects.    If you need a new roof, let our nearly 90 years of experience serve you.
Now Featuring
Fluid Applied Roof Restoration Systems
An extremely economical roofing alternative for commercial flat roofs. .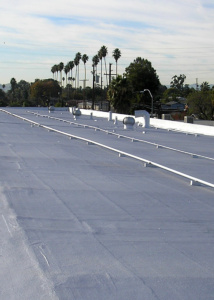 Can be applied over most roof systems.
No costly tear off of old roof.
No building permit required!
Reflective "Cool Roof" coatings.
Immediate tax benefits.
A net savings of up to 50% over a traditional re-roof.
The estimating team here at BELL ROOF COMPANY is ready to assist you!  Please give BELL a 'Ring' by phone, fax or email.
Fully licensed and insured!